Hey K-Zoners! For those of you living in NSW, ACT, NT, SA and Tasmania, the holidays are going strong and I'm sure all of you are having an incred time! What have you done so far, and what's next? Let me know in the comments below!
Obvs, the holidays are over now for K-Zoners in Qld, Vic and WA, but I still want to hear about all the epic activities you did in the break! Get over to the comments and share some stories with me!
If you know me, then you know I'm a major Marvel fan (hello, check out the awesome drawing of me right above this blog post!), and when I heard there was an opportunity to meet a Marvel comic artist, there was no way I was going to miss the chance!
​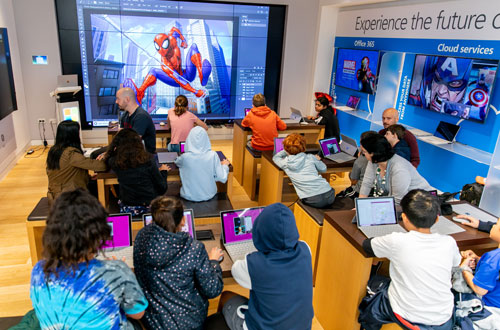 ​Credit: Deidre Jones Petkovski; Dream Designs & Photography
The Microsoft Store in Sydney is holding free Marvel Create Your Own workshops each day this week (until Sunday October 14), with step-by-step tutorials from pro artists! The comic workshops will teach you tips for illustrating famous Marvel characters and allow anyone to use Surface devices to create and edit their own comic art, using Tap Tap Comics Marvel Create Your Own platform.
The Microsoft Store also holds free Minecraft Build Challenge events every Saturday and Sunday, as well as a variety of other events throughout the week like Play and MakeCode with Minecraft, FIFA 19 tournaments, Get Creative with Paint 3D workshops and much more.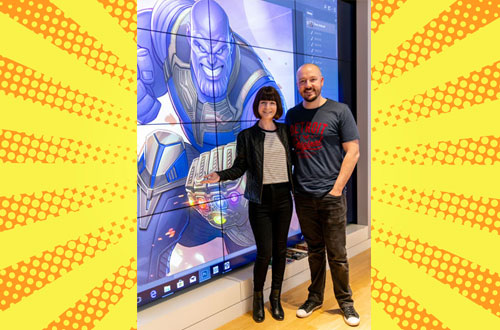 ​Credit: Deidre Jones Petkovski; Dream Designs & Photography
I attended the Microsoft Store Marvel Create Your Own workshop today to see Marvel comic artist Patrick Brown bring Thanos to life! Patrick showed us how he moves from line drawings to sketches and inks, and shared some of his drawing techniques. After the workshop, I asked Patrick all the big questions – everything from common artist mistakes, Spider-Man: Into The Spider-Verse and using the Surface pen to create! K-Zoners, meet Patrick!
KZ: Hey Patrick! Who is your absolute favourite Marvel character to draw?
P: Definitely Spider-Man. I've always loved Spider-Man, even as a kid – I'm a Marvel fan at heart. I've always liked him because he's so energetic and you can draw him in any pose. He's very aerodynamic and his action poses are intense and fun to draw. As an artist, it's always fun to come up with crazy poses.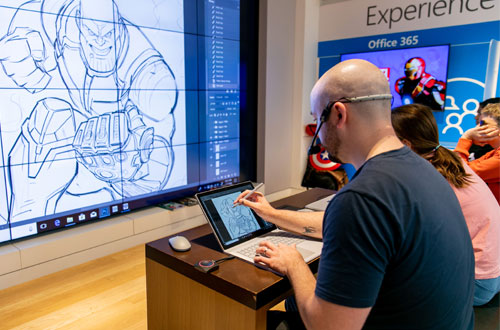 Credit: Deidre Jones Petkovski; Dream Designs & Photography
KZ: What is your first step when drawing a character?
P: The pose. The first thing I have to figure out is whether it's an action pose or a standing/attitude pose. It also depends on what Marvel want. They'll usually tell me something like, 'We want an action pose of Captain America', but after that they are pretty free rein and that's the only guidance I'll need. I'll whip up a few action shots in a sketch and get them to pick one. I find the sketching stage is probably the most important of the entire process.
KZ: Do you start with pen and paper, or a digital program?
P: These days I'm going more digital. I'll sketch more with my Wacom and I have a lot of tablets. For example, in the Microsoft Store Marvel Create Your Own workshop, I used a Surface pen and it's brilliant, there's no lag and its almost exactly the same as drawing with pencil and paper. It's also great to be able to take the screen off and move around with it.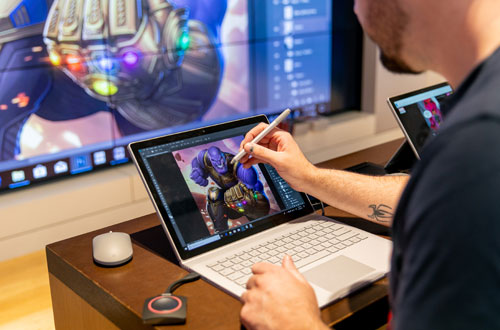 Credit: Deidre Jones Petkovski; Dream Designs & Photography
KZ: Where do you usually like to work?
P: I have a studio and I mostly draw in there but sometimes I'll draw on the move. Travelling to Sydney, I used my Surface to draw on the plane and pass the time, coming up with a few new sketches.
KZ: How did you first start as an artist?
P: I've always been into art from a very young age, always with pencil and paper up until I left college, which is when I started moving into the digital world. I was intrigued by how clean the colours can be with digital and saw a lot of potential there. The first time I ever had access to a tablet, I'd go crazy using it in any of my free time and drawing any chance I could. It changed my whole life because I was always digital after that, all digital drawing and art. It helped develop my style.
KZ: What's the biggest mistake made by new artists?
P: Start simple! It's always best to start simple and add from there. For example when I'm sketching and trying to come up with a pose, don't overwhelm yourself. Sometimes it's best to even just start with a circle for a torso and build shoulders onto that with a few more circles; keep adding until you're happy. If you don't like it, scrap it and start again. That's what I've always done. If you don't like it, try again and don't give up. You learn every time you draw something and start again. The key is to keep trying. Also find what inspires you. Make sure if you like other artists, try and soak up what they do and watch how they create it. I'm a big fan of Humberto Ramos and Ryan Ottley. They both influenced me a lot and as a young artist it made me think, 'I would love to do something like that'.

​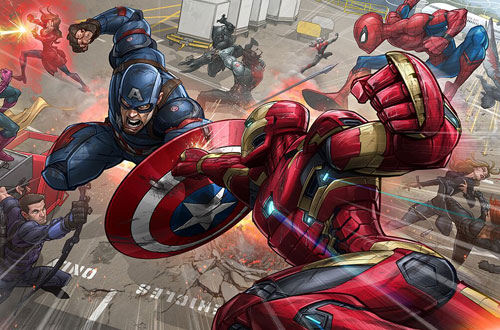 Artwork: Patrick Brown
KZ: What types of Marvel projects do you work on?
P: Since I've been working for Marvel, it's mostly been character work, separate characters that you would see on products. I haven't done interior comics yet but I've done a lot of comic covers, mostly for Spider-Man. I've done about 20 covers by now, for Spider-Man, Thor, Doctor Strange and Guardians of the Galaxy.
KZ: As a major Spidey fan, are you excited about the Spider-Man: Into The Spider-Verse movie?
P: Yes I am! I had the pleasure of working on that too, I did some art for it – a lot of promotional work so you might see my art on the toy packaging. I've seen my work on products out in the world now.
KZ: Awesome! Does that mean you knew secrets about the movie before everyone else?
P: Yes, I did. I was so excited when I first got the chance to work on it, about a year ago. When I found out I was going to be a part of some of the art for it, it was amazing.
Want to attend a Microsoft Store Marvel Create Your Own workshop? Catch a Marvel artist demonstration and workshop 10am-12pm Wednesday October 10, 2pm-4pm Thursday October 11, 10am-12pm Friday October 12, 2pm-4pm Saturday October 13 and 10am-12pm Sunday October 14.
If you want to check out any of the other workshops, click here to see what's happening at Microsoft Store Sydney!
If you'd like to try the Marvel Create Your Own program, visit https://marvelcreateyourown.taptapcomics.com/ and get your parents/guardians permission before signing up.