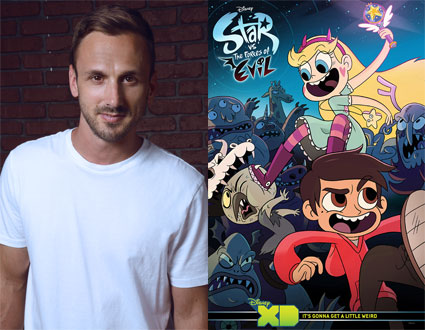 KZ: For any K-Zoners who haven't seen it, what makes Star vs. The Forces of Evil different to other shows?
A: I think if I was to boil it down, it's the characters! None of them are perfect and they all have lessons to learn, but their relationships with each other and this magical journey they're on, make them SO lovable. They are all my children :)
KZ: If you could hang out with any other character in the show, who would you choose?
A: Are we talking character or voice actor? I'll give you both! For character I choose Star (duh!) – who wouldn't want to go on an inter-dimensional adventure? For voice actor I choose Jon Heder, who voices Oskar. He's the nicest guy!
KZ: Marco wears red hoodies a lot! If you had to wear the same outfit all the time like a cartoon character, what would you wear?
A: Haha I love this question! I'm so torn! Do I go comfort over style or the opposite?! Somebody help me! OK, OK… I choose a patterned short sleeve button down, some comfy jeans, and some sweet kicks. I choose comfort AND style!
KZ: Which location from the show would be the worst place to live in for a month?
A: Oh, man… the dimension with all the cats with human faces! CREEPY!
KZ: New episodes from Season 3 start airing in Australia in late September. Is there an Easter egg or special moment in the third season that you want K-Zoners to keep an eye out for?
A: All I can say is, HANG ON. You're in for an emotional roller coaster of fun!
New episodes of Star vs. The Forces of Evil start September 29 at 8:00am on Disney XD!
Want more deets on Star vs. The Forces of Evil and Adam? Grab the October issue of K-Zone, on sale now!