Hey K-Zoners! Let me ask you an important question – what could possibly be more awesome than sport? Well, the first ever Nickelodeon Kids' Choice Sports Awards, of course!
Nickelodeon have announced superstar nominees for this epic award show, including Tim Cahill, Ellyse Perry, Jamie-Lee Price, Daniel Ricciardo, Charlotte Caslick, Jack Wilson, Caroline Buchanan and many more. Check out the Nickelodeon Kids' Choice Sports Awards on Monday, November 20 at 5:30pm!
I was lucky enough to go to a slime-filled celebration at Nickelodeon HQ and catch up with a few of the totally talented nominees – I made sure to ask all the hard questions and get all the deets, so you know more about the sports stars you can vote for.
Check out my interview with BMX superstar Caroline Buchanan, who is nominated in the Sickest Moves category, below!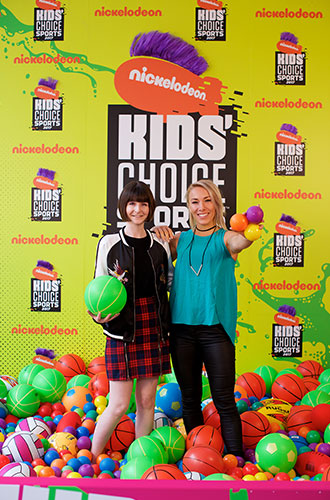 Here I am hanging out in a ball pit with Caroline Buchanan!
​
Fast Facts
Name: Caroline Buchanan
Nickname: Caz
Amazing Achievements: Holds eight World Championship BMX and Mountain Biking titles, and has represented Australia twice at the Olympic Games!
Loves: French bulldogs!
​KZ: Hey Caroline! What has been the weirdest thing that's happened to you since becoming a champion?​
C: I've had a lot of really scary moments. Earlier this year I jumped the Nitro Circus Mega Ramp and dropping into that ramp, I was shaking and thought I was going to be sick, but to overcome those fears was pretty crazy, and you surprise yourself with your own ability.
KZ: How important is physical training for your events?
C: Huge! I started racing when I was five, and training specifically for BMX when I was 10. When I was 15 and joined the professional category, it all ramped up and became my job, so I dedicated time to it. Training and strength conditioning isn't just important for getting onto the podium, but also since I am involved in an extreme action sport where there are a lot of injuries, you want to remain strong so you can have those crashes but you can get up and keep racing.
KZ: When you train, what are you doing?
C: For BMX biking or cycling events, it's a lot of leg strength and power, but also upper body and core. The whole body is used for riding a bike, but also for injury prevention, when you come off the bike and have a crash, I'm able to recover faster by working on my full body.
KZ: If you could be a champion of any other sport, what would you choose?​
C: I love the Winter Olympics, maybe because there are more action/adventure sports in it, I was definitely inspired by Torah Bright in 2010, it was like the realisation for me that I could be an Olympic champion one day. If I could do another Olympic sport I'd do boardercross in snowboarding, it's very similar to the world title event that I've done in mountain biking called four-cross. Both have four athletes, moguls, corners, head to head racing, but it's on a snowboard. So if I could snowboard, that would be for me.​
KZ: What has been the highlight of your career?​
C: I recently won my eighth world title, so I would consider that a highlight. Competing in two Olympic Games, I haven't won a medal but recently in Rio, after I crashed in the semi-final, I went up into the stands because I wanted to support my fellow Australian athletes, and I actually got a standing ovation from the crowd – all these foreign people that I didn't know. I think that moment, coming in as the world champion, not winning a medal at the Games and not being able to compete in the final, because I crashed, but getting that respect from the crowd, that was my Olympic moment.​
KZ: When you aren't on two wheels, what are you doing? Do you have any hobbies?​
C: I love French bulldogs. My parents have two French bulldogs, Diesel and Bree, in Canberra, and I have one called Cosmo. I've travelled ever since I was nine while racing BMX, so from state to national to world championship level, and now the last two Olympic Games. I am based out of Southern California a lot of the time, so Cosmo is over in America, and I have a BMX track in my backyard.
Tune in to the first ever Nickelodeon Kids' Choice Sports Awards on Monday, November 20 at 5:30pm!