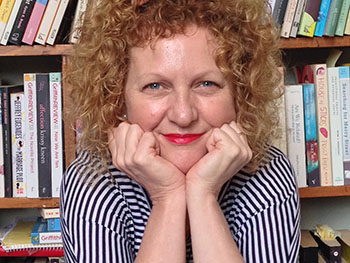 PART 1: What is BEST?
Vegemite/Peanut Butter
"Vegemite. But only in the morning. Any other time it tastes like slippery, salty, black stuff."
Cats/Dogs
"Dogs! You can't trust cats."
Robots/Zombies
"Vampires."
Books/Movies
"Can't choose! LOVE them both."
Soft Cheese/Hard Cheese
"Soft. Mmmmm."
Skateboards/Scooters
"Me, on either? You're kidding, right?"
Shoes/Hats 
"One of my biggest fears is having to wear a hat in public. They make me look RIDICULOUS. When my kids need a laugh they ask me to put on a hat. It's humiliating."
PART 2: Complete these sentences as BEST you can!
I was going to do my homework but... "I couldn't find it."
I was going to clean my room but... "It's not dirty."
I was going to walk/feed the dog but... "I couldn't find it."
I was on my way to school but... "I couldn't find it."

Don't forget to buy the November 2015 issue of K-Zone to find out the rest of what Jen Storer had to say!