Did you watch the Nickelodeon Kids' Choice Awards on the weekend K-Zoners? There was a whole heap of cool stuff that went on, like some of your fave celebs getting slimed! (Sorry 5SOS) The host, Nick Jonas, even drank some slime…er, gross!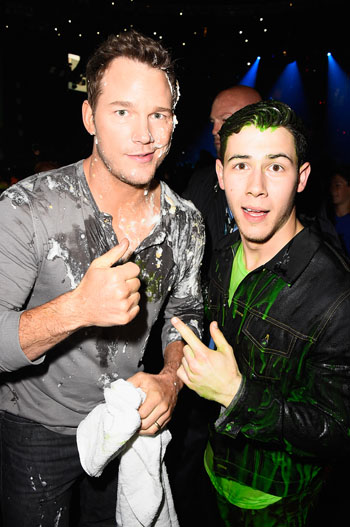 Chris Pratt and Nick Jonas covered in slime!
Disney Channel show Austin & Ally won big, taking home three awards – Favourite TV Show, Favourite TV Actress and Favourite TV Actor.
Check the full list of lucky winners below!
Favourite Movie Actress - Emma Stone
Favourite Movie Actor - Ben Stiller
Favourite Male Action Star - Liam Hemsworth
Favourite Villain - Angelina Jolie
Favourite Animated Movie - Big Hero 6
Favourite Family TV Show - Modern Family
Favourite Talent Competition Show - The Voice
Favourite Cartoon - SpongeBob SquarePants
Favourite Reality Show - Dance Moms
Favourite Music Group - One Direction
Favourite New Artist - Fifth Harmony
Favourite Song of the Year - "Bang Bang" by Jessie J, Ariana Grande & Nicki Minaj
Favourite Female Singer - Selena Gomez
Favourite Male Singer - Nick Jonas
Most Addictive Game - Minecraft
Favourite Book - Diary of a Wimpy Kid series
Winners of the Aussie/Kiwi KCA's
Aussie/Kiwi's Favourite Animal – Grumpy Cat
Aussie/Kiwi's Favourite Fan Army – 5SOSFam
Favourite Aussie/Kiwi Music Act – 5SOS
Favourite Aussie/Kiwi Sports Star – Dan Carter
Favourite Aussie/Kiwi Internet Sensation – Troye Sivan
Plus, check our exclusive interview with Grumpy Cat here!