P60 GOOSE ON THE LOOSE
P61 PROFESSOR PAIR UP
Mostly A's
You're Eyenstein!
Brain freeze while eating ice cream is the worst, right? Eyenstein was trying to find a way to stop brain freeze so people could eat as much ice cream as they want. Unfortunately, his experiments went too far and his body is now permanently freezing cold. This meant he could no longer use himself as a test subject and the risky project was eventually abandoned. Eyenstein is currently looking for his next passion project.
Mostly B's
You're Dr. Mon Keye!
Dr. Mon Keye is one of the most promising scientists of her time. The doctor was attempting to genetically alter bananas, in order to make them grow twice as large at twice the speed. She was on the verge of successfully creating the perfect banana when a monkey broke into the K-Zone Lab and startled the scientist. The experiment ended up accidentally genetically altering the doctor and the monkey! Dr. Mon Keye is determined to complete her objective and continues to work on genetically altering bananas. If only she could stop eating half her research!
Mostly C's
You're Tutankheyemun!
Tutankheyemun has been fascinated by ancient Egypt since he was a child. When it was finally time for him to choose a professional field of study, ancient Egyptian artefacts was a no brainer. One day, the professor was studying artefacts in the K-Zone Lab and needed to go to the bathroom. While Tutankheyemun was inside, lightning struck the lab and a bizarre accident merged his DNA with toilet paper! Dr. Eyevile G. Enius tried to find a cure, but turned Tutankheyemun green instead.
P62 YEARBOOK MISSION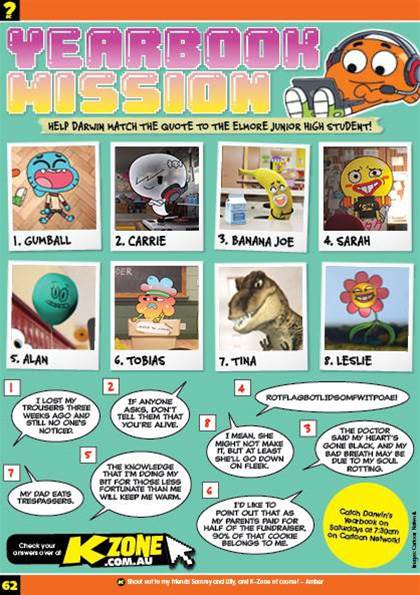 P63 MAGIC MYSTERY
Mostly A's
You're Harry Potter!
Mostly B's
You're Hermione Granger!
Mostly C's
You're Ron Weasley!