P55 YETI SET GO
P56 ANGRY IDENTITY
Mostly A's: You are most like Leonard!
Leonard is the charming, folksy and charismatic king of Piggy Island. When this larger-than-life personality arrives at Red's doorstep with a story about a third island with a plan to destroy life on both their islands, Red has no choice but to trust him. Still, Leonard remains narcissistic and manipulative, as he and Red jockey for control of the team they've assembled.
Mostly B's: You are most like Silver!
Silver is a grad student at Avian Academy where she is getting her degree in Engineering. She also happens to be Chuck's younger sister, so as you can imagine she has a cheerful, outgoing, energetic personality. Like Chuck, Silver is also blessed with a gift for speed. But for her, it's her mind that can solve complex equations and troubling situations in the blink of an eye.
Mostly C's: You are most like Zeta!
Zeta is the frustrated ice queen of Eagle Island. This gangly leader of the Eagles is tired of living (and shivering) on a frozen island of snow and ice and dreams of one day sipping Piña Coladas on the warm, tropical beaches of Bird Island and Piggy Island. Years ago, she suffered a broken heart that has left her as cold as her frigid surroundings. She's sarcastic and selfish, and just conceited enough to believe she can take the two other islands for herself.
P57 HIDDEN WORDS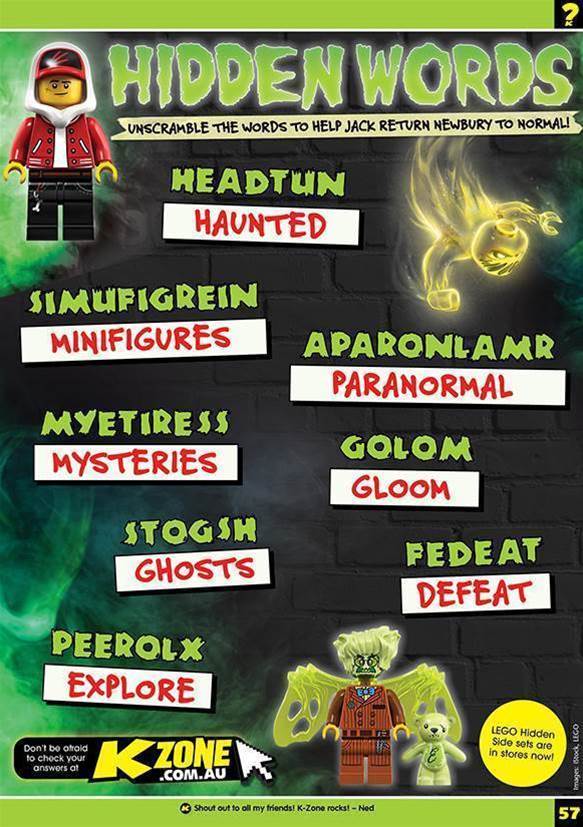 P61 SPONGEBOB SLEUTH
P62 KIDS VS MONSTERS