KZ: Hi Billie! What's the best thing about being in the WWE?
B: It was a childhood dream of mine since I was 10 years old. I was always obsessed with, and fascinated by, WWE and I wanted to become a WWE Superstar since that age. So it really is just a dream come true and the best thing about being in the WWE is that I can say that I'm living out that dream.
KZ: What is the most challenging part of being a WWE Superstar?
B: The emotional aspect of it; being away from family. I am extremely close with my family but moving away from home when I was 25 was tough. I didn't have my mum or my dad, I was missing my nieces and nephews growing up, I was missing ever Christmas, I was missing Easter, I didn't see my nan as much. That's definitely the hardest thing about being in the WWE and living on the other side of the world. My family have always been my biggest supporters, and they knew that I could achieve this dream. They have always been the ones backing me and pushing me to keep going, and it is amazing to have that support.
KZ: What are you looking forward to at WWE SummerSlam?
B: It's the biggest party of the summer! It's the biggest Pay Per View of the year, which is really exciting. Obviously WrestleMania is first, and then everyone looks to SummerSlam as the next biggest show of the year, so I'm really excited because the energy around SummerSlam is always huge. There's a lot of electricity in the room and you just feel the energy. I'm excited for the whole week leading up to it. There's always Fan Access, and events, and the matches are always such a high calibre at SummerSlam. It's going to be exciting this year. They definitely go all out, and it makes it such a spectacle. You can't help but watch and be 100% involved in everything.
KZ: Tell us about winning the Women's Tag Team Championship last year, at your first WrestleMania with Peyton as The IIconics!
B: We were just so grateful in that moment. We're high school best friends and we were on WrestleMania in a tag team match, and winning the championship, it was very much a fairy tale.
KZ: What's on your goals list?
B: Yes! So I just recently did another five year goal plan. I won't tell you everything on it, but I will give you a little preview; it definitely had 'Become a two time tag team wrestling champion'. That's what Peyton and I really want to focus on in 2020; we definitely want to become two time champs.
Images:  © 2020 WWE, Inc. All Rights Reserved.

KZ: How do you prepare for a match?
B: Obviously hair and makeup is a must, but after I get changed into my wrestling outfit, I make sure I'm hydrated and stretch for a good 10-15 minutes. I never want to get injured from not stretching. I make sure that I have a good warm up before I step foot in that ring. I don't really have a pre-match ritual. I'm always grateful that I'm able to do this and that I'm able to live out this dream. Some days can get pretty hectic and I'm running around everywhere, so I always want to be grateful in that moment. Right before I step through the curtains, I'm always grateful for that moment and that I'm able to live out this dream.
KZ: What's your favourite move?
B: Individually I love The Shave of Kay – it's a big grip, so I literally get my right leg up as high as I can, kick the person in the face and flip them on the ground. That's a nice one that I can whip out anywhere. My favourite tag team move with Peyton would definitely be our new finisher, it resembles a fall from grace, so to speak. We pick the opponent up together, Peyton has their legs and I have their back and shoulders area, so they are sitting on top of our shoulders, and then we flip them over and run their faces right into the ground. That's been a fun one to use frequently too. It has won us a couple of matches too, which is very nice.
KZ: You can pick anyone for a friendly tag team match against The IIconics; who do you choose?
B: That's a good question. I've never been asked that before. I'm going to say Hamish and Andy. Aussie blokes, I reckon that they would be great! They're funny guys, we're funny girls. I think that would be amazing to see them in the ring. We'd probably beat them up real good so that would be funny.
KZ: If you could take on a fictional character in the ring, who would you pick?
B: Sailor Moon! I'm obsessed. It's the only anime that I've ever really been able to get into and I'm obsessed. Sailor Jupiter was my favourite, but I have to go against Sailor Moon because she's the head of the group, just to fight her. That would be so cool.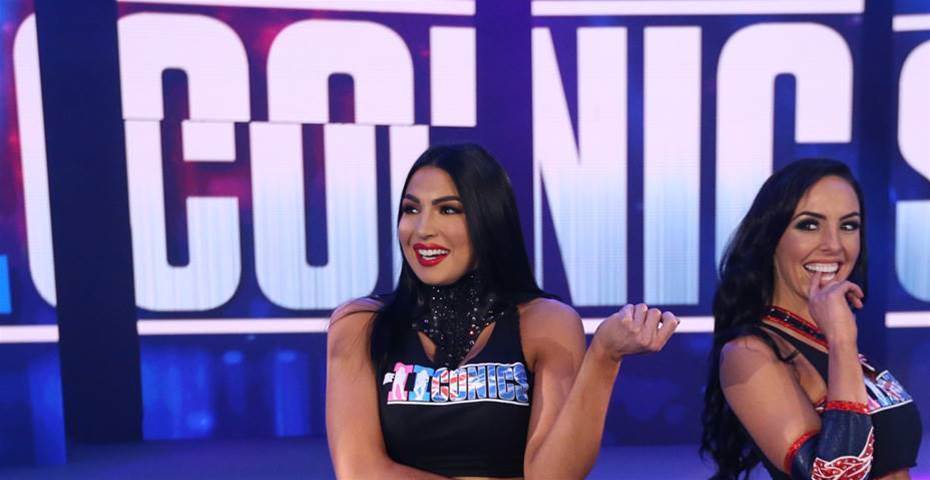 Images:  © 2020 WWE, Inc. All Rights Reserved.
KZ: You're a big fan of The Rock, what was it like meeting him?
B: It was honestly one of the best moments of my life. He was the one person that really got me hooked into wrestling and WWE. His charisma, his in ring performing, his work on the microphone, like everything about him, I am just absolutely enthralled in seeing him as a performer and I wanted to meet him so bad one day so that when that moment came, I was so nervous, I was shaking. When we finally made eye contact I just started crying. It was so emotional for me but he is the biggest sweetheart you'll ever meet, such a nice gentleman. We had a little chat, got a photo. Definitely one of the highlights of my life.
KZ: You were also a state champion at basketball before WWE. When did you decide to pursue being a WWE champion instead?
B: I started playing basketball when I was five years old and I came from a basketball family. Everyone in my family either played, coached or refereed basketball. It was basketball all the way up until I was signed by the WWE, so I would have been about 24 when I gave it up. I played it my whole life, I went to a sports high school for basketball and it was very much the sport that I wanted to excel in, until I turned about 16. I realised wrestling was kind of overshadowing basketball at that stage, and I really wanted to give wrestling a go. I knew my dream was to become a WWE Superstar. So I would say that around 18 or 19 years old, I realised that I would have to give up basketball to pursue wrestling and WWE full time. It paid off!  
KZ: How are you moves on the court these days?
B: A little bit rusty if I have to be honest, but my local gym does have a basketball court so every now and then I pick up the ball and shoot some hoops - and they're still going in. I've picked up some good habits, I played for so long that I don't think I could ever lose it.
KZ: What's the best thing about working with your best friend?
B: It's just so much fun. It's the best time ever when I'm with Peyton. Every time we go through the curtain together, we get to have so much fun and experience every single adventure, match and promo together. We're just completely intertwined in each other's lives. It's the best thing. I know that I can be myself, truly myself, and vice versa. She's my biggest supporter and I'm her biggest supporter, so having that in each other's lives is absolutely incredible. It's something that I will never take for granted. She is my best friend and I don't know what I'd do without her. We've known each other for almost 16 years and our bond is so special to me.
KZ: What advice would you give to K-Zoners who want to be in WWE?
B: Work extremely hard. It's not going to be easy but I think definitely the most important thing is to have confidence. Confidence in your abilities, confidence in yourself and just remember that if you truly want to achieve something, you can definitely do it.
Read more of our interview with Billie Kay in the September 2020 issue of K-Zone, on sale now!