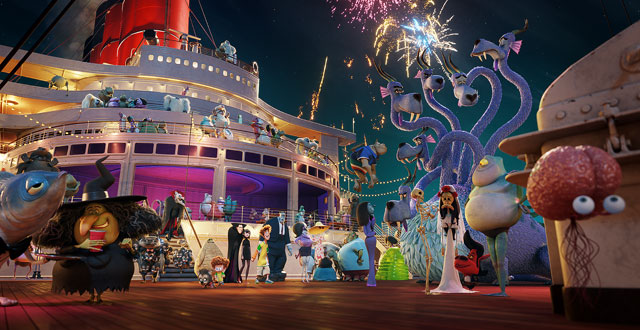 Hey K-Zoners! How are your holidays going? Let me know what you've been up to so far in the comments below!
Since there are so many long days to fill with awesome activities, I thought I'd mention a fun movie you could check out – Hotel Transylvania 3: A Monster Vacation! It's in cinemas now, and it's basically one big guide to having a… monster vacation!
Even if you've never been on a cruise ship, and you're not a mythical creature, the movie is full of LOLS. K-Zone recently caught up with Andy Samberg, who plays Johnny in Hotel Transylvania, to talk about the new flick!

​
KZ: This movie is a summer vacation story. What's been your most unique adventure with your own family?
A: We would go visit family in Florida or Manhattan and it would always be like 150 degrees and everyone was miserable… I don't have any funny stories!
KZ: Did you ever take a cruise?
A: No. Never.
Q: Does this movie make the idea of a cruise more or less interesting for you?
A: I feel like the movie makes it more enticing than it would personally be for me! I get seasick!
KZ: This is the third Hotel Transylvania movie – what's different this time?
A: The setting! Hopefully the key elements of the first two movies are still intact in this one, though. The first two certainly struck a chord and people seemed to enjoy it, so the goal is to deliver on that promise once again.
KZ: How would you describe the relationship between Johnny and Drac?
A: They're more comfortable with each other now that he's married to his daughter. Whether it's begrudgingly or not – Johnny is part of the family. They're definitely more of a shorthand and Drac has accepted that there's a human in the family.
KZ: Would you like to be more like your character Johnny IRL?
A: Umm, no!
KZ: Do you see any resemblance between you and Johnny?
A: I would say that if you look at Johnny, it's pretty clear that we're very similar. Body type is super thin, hair is red, smile, dead eyes, long neck, same flip-flops, same attitude… He's a good-time kinda guy!
KZ: How much of your own personality are you able to bring to the character?
A: Very little of my actual personality but from a creative perspective, I will add a few lines.
KZ: Do you prefer voicing an animated character to acting in front of the camera?
A: It's freeing in a way because you don't care about what you look like and you're also not worried that you're going to be judged on the acting as much, because audiences are going to be looking at a different person when they watch the movie. When the director asks you to push it further and take it bigger, it's a safer environment to do that.
KZ: What do you enjoy the most about making the Hotel Transylvania movies?
A: I think our director Genndy Tartakovsky does such a great job in terms of the visuals. They're always so much more dynamic than I'm expecting; the camera movements and the way that it's plotted out, and the animation is so beautiful. Then you combine that with good storytelling and jokes that are actually funny for adults and kids.
KZ: Hotel Transylvania 3 was released on Friday 13 in the United States. How superstitious are you?
A: I won't walk under a ladder – I know it's dumb, but I still won't do it!
Want more Hotel Transylvania 3: A Monster Vacation? Grab the July issue of K-Zone, on sale now!