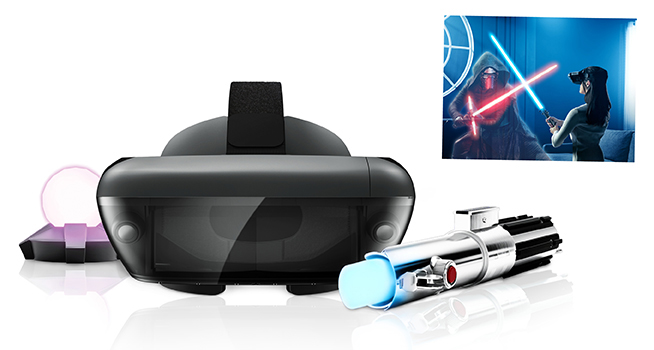 Ever wanted to train to be a Jedi? Be honest Padawan, of course you have! We recently got to play
Star Wars: Jedi Challenges
at K-Zone HQ, and we were all very excited to duel with lightsabers in augmented reality.
I loved the experience so much, I wanted to shout out to the Blog of Awesome crew and make sure you know that two K-Zoners actually have a chance to win a Star Wars: Jedi Challenges pack, including the Skywalker lightsaber controller, Lenovo Mirage AR headset and tracking beacon. If you want to enter, grab the July issue of K-Zone – it's on sale until July 15!
I also got to chat to Tim Grattidge, the Consumer Category Manager at Lenovo Australia, about making Star Wars: Jedi Challenges, and AR vs VR tech!
KZ: As Consumer Category Manager at Lenovo Australia, can you describe an average day at work?
T: On an average day I get to sample, test and play with all the cool new technology Lenovo is introducing to Australia, including VR/AR products and smart home devices.
KZ: How often do you get to play games like Star Wars: Jedi Challenges at work?
T: Before new products are launched, I get early samples to test during work hours, which is a pretty cool and exciting part of the job at Lenovo.
KZ: So cool! You are in charge of augmented reality (AR) and virtual reality (VR) Lenovo products – can you explain AR and VR, and the difference between the two?
T: Augmented reality is an experience that overlays digital information on top of the real world environment that you see. AR is all about enhancing the real world. On the other hand, virtual reality replaces your whole worldwide view with a fully simulated one. Virtual reality really takes you somewhere else.
KZ: What is your favourite Star Wars movie?
T: My favourite Star Wars movie has to be the original Star Wars IV: A New Hope. It's amazing what they achieved without the technology that we have today.
KZ: OK Tim, it's time for the biggest question. Are you a fan of the light side, or the dark side?
T: I prefer the Jedi. I guess being an Aussie, I barrack for the underdog.
Want to see behind the scenes pics of the K-Zone Team in lightsaber duels, or more info on Star Wars: Jedi Challenges? Check out the August issue of K-Zone, on sale July 16!