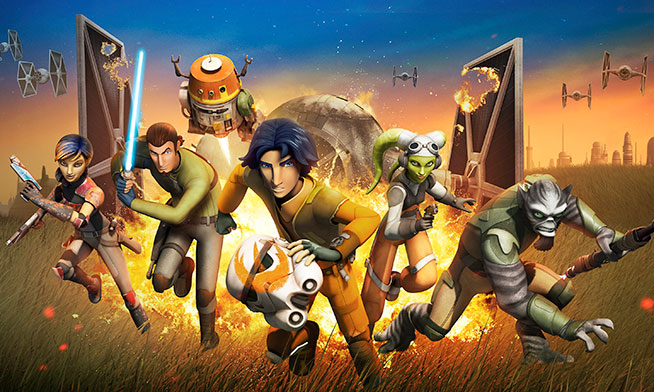 The cast and crew of Star Wars Rebels were at New York Comic Con on Friday to spill some secrets about the second season! Here's what you need to know!
There's a new villain! The crew of the Ghost has a formidable foe in the Seventh Sister, an Inquisitor who doesn't just go in for the kill, but likes to hunt her prey. She's also on a mission to find Ahsoka Tano! The Seventh Sister has her own lightsaber with an interesting design, and she uses small mimic drones to help her defeat her enemies.
The mystery of Ezra's missing parents will be part of the new season! Ezra's voice actor, Taylor Gray, said the show would go 'very deep' into investigating what happened to them.
Ahsoka Tano will act as a kind of Obi-Wan for the Rebels. According to show creator Dave Filoni, "Ahsoka shows up when necessary. She's dealing with bigger, darker problems". Fans will also get clues throughout the season for what Ahsoka has been doing between Clone Wars and Rebels.
In brand new footage shown at the convention, Ahsoka appears wielding her two lightsabers, which are now white. Ashley Eckstein, the voice of Ahsoka, said that since Ahsoka is no longer a Jedi, she chose the new colour because she is neutral – neither the blue/green of the Jedi, or the red of the Sith.
Catch the Season 2 premiere of Star Wars Rebels on Sunday, October 18 at 8:30am on Disney XD! Plus watch the trailer here:


Star Wars fans, or K-Zoners who want to find out more about the series, should definitely check out the October issue of K-Zone, on sale now!