Image credit: ABC
We caught up with the hosts of Good Game: Spawn Point to talk about everything from videogames and superheroes to Star Wars and books!
If you love videogames, be sure to check out the hilare Bajo and Hex 9am Saturdays on ABC3! You can also catch the repeated episodes 8pm Fridays and Saturdays, or 6:20pm Wednesdays!
KZ: What is your fave part of being a host on Good Game: Spawn Point?
Bajo: Besides eating toasted cheese sandwiches? Probably answering the fun questions we get at the Ask Spawn Point desk! And making the faces and noises.
Hex: Getting to work with my best friends every day!
KZ: What is the coolest thing you've gotten to do on the show?
B: Once DARREN took us through space and time to a cheese sandwich dimension, and it was weird but also amazing and life changing.
KZ: What is your favourite game to play at the moment?
B: I played LEGO Jurassic World recently and loved it! Very true to the films and full of creative puzzles.
H: Right now I'm completely hooked on Unravel. It has such a clever platforming mechanic with the yarn – and the graphics are some of the most beautiful I've ever seen!
KZ: What is your favourite game of all time?
B: Sonic the Hedgehog 2! It was such a fast and exciting game when it came out in the 90s. We had seen nothing like it before!
H: I'm gonna say Gravity Rush. It's recently been remastered for the PS4 – and it's SO awesome.
KZ: Have you ever pulled a prank on each other?
B: Sometimes I hide around corners and try to scare Hex when she comes out of studio! Day to day life with DARREN is a constant prank.
H: Bajo always presses the button on my desk chair when I'm not looking to make my chair go down. Then he runs away so I keep thinking it's happening on its own!
KZ: Who is your fave superhero?
H: I like Thor! I'm big into Vikings and Norse mythology so I think he's really cool. Wonder Woman is also super awesome because she's an Amazon!
B: BATMAN. Batman is justice!
KZ: Who is your fave Star Wars character?
B: I'm a big fan of Jar Jar Binks. Just kidding! I love R2-D2. That little droid says so much with just a few beeps! I wish DARREN was more like R2-D2.
H: It's officially Rey after seeing the new film. She's so strong and agile and courageous. I got to dress up as her once, and I felt so cool!
KZ: You both also recently wrote a book called Pixel Raiders: Dig World! What inspired you to write Pixel Raiders? How did you come up with the idea?
B: Our publisher Scholastic came to us with an idea about two people trapped in a video game and we said "WOW! That's brilliant!" From that point, Hex and I got together and started coming up with ideas!
H: There was a cartoon I watched as a kid called Reboot about how all the sprites that lived inside a computer lived this whole other life - and I just loved that idea. When Scholastic approached us, I was super excited to be able to write about the worlds inside games. The tough part was deciding which games to draw inspiration from, because there are so many great genres!
KZ: Are the characters' personalities influenced by anyone you know in real life?
H: I think there's a bit of Bajo in George!
B: A bit of me, a bit of some of our team around the office! I think there's a bit of DARREN in the game's villain ¬– MEGALAVA!
KZ: The first book is set in a level called Dig World – what genre of game do you usually prefer to play?
B: I love creative games where you can build things and role-play with friends. Also racing games, platformers… There are so many exciting genres, I don't think I can pick a favorite.
H: I like open world games because that sense of freedom is just so wonderful. I also like games that have a bit of a magical element.
KZ: If you had to live in the real world as a character from a game for a week, who would you choose to be?
H: Kirby. Think of the havoc I would cause, eating everyone and spitting them back out again!
B: Sonic. Sonic can run so fast. I'd be able to get to work on time every day!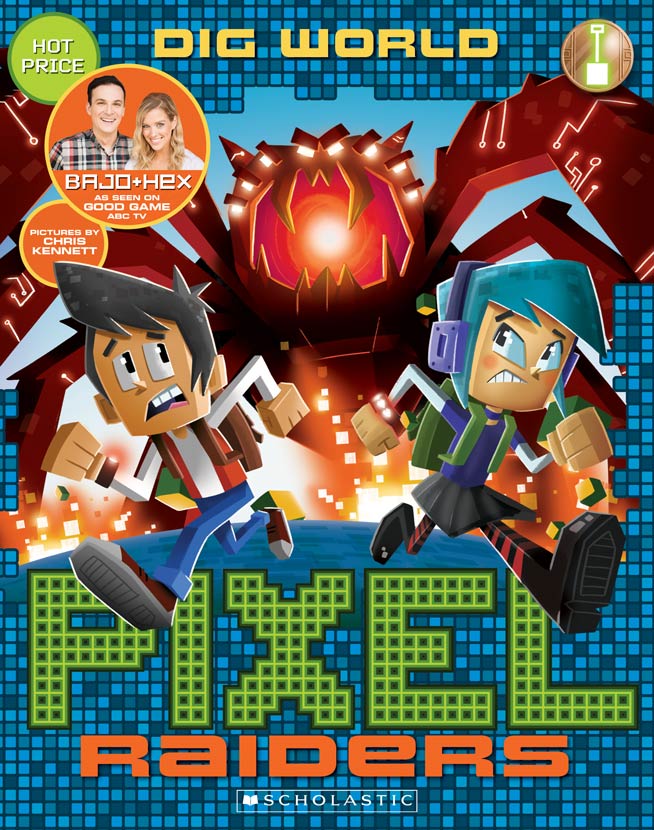 Head on a videogame adventure with Pixel Raiders: Dig World when it hits bookstores May 1, 2016!