Want to find out how to write and draw like a champ? Check out the hilare interview with Andy and Terry on page 24 of the September issue of K-Zone, on sale now!
KZ: What situation should you definitely try to avoid if you are trying to write – being stuck in quick sand, a man-eating shark tank, or a room full of melted cheese?
Andy: A toasted cheese sandwich while writing is pretty great, so I think being stuck in melted cheese would be the best. Quick sand would be good to be in, because you couldn't move and you would have to concentrate on writing. If you're being chased by sharks, I don't think you could really write. Stay out of the shark tank!
KZ: If you could choose anyone in all of history to bounce ideas off, who would it be?
Terry: Spike Milligan. Stan Laurel. Terry Gilliam. Daffy Duck. The Three Stooges. Jacques Tati. Buster Keaton. All comedians and film makers from a while back. I don't want to bounce ideas of Andy, just bowling balls.
KZ: Where is the best place to go for inspiration?
Andy: I've got a favourite bookstore in almost each capital city in Australia and my favourite one in the whole world is the Strand bookstore in New York City, which is about seven floors of new and second hand books. The more books you read, the more you have to work with as a writer.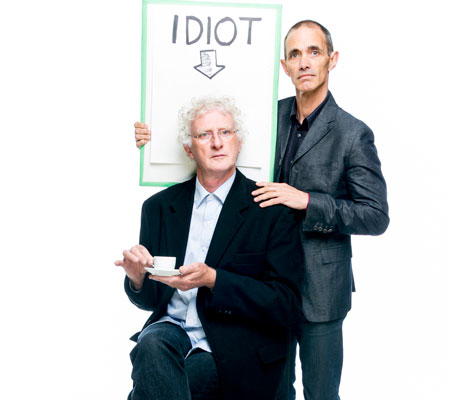 KZ: Where is the best place to go for inspiration?
Terry: To my desk. I sit and think and stuff happens. When I do painting I like to be outdoors. National parks, rivers and often the ocean beaches near where I live.
KZ: What is something you think you are the best at?
Terry: I am good at volleyball, and golf, and watercolour painting and drawing Andy angry. But the thing I am best at is training my goldfish to talk. I am great at it. Unfortunately my goldfish are hopeless at it.
KZ: If you had to live in just one part of the Treehouse while writing, which would you choose? Why?
Andy: What's quite true in the books is that I tend to write with Terry in a kitchen living area, so we're close to food and we have a big table. So in the Treehouse we tend to live in the kitchen living area. But if I have to come up with something and invent it from scratch then maybe I would go to the music studio and turn the music up and do it that way.
The 65-Storey Treehouse is on bookshelves right now!