This Australia Day, Nickelodeon is taking over Hyde Park in Sydney for their official Summer Playground for all to enjoy! There'll be character meet and greets, live performances and lots of cool activities! K-Zone spoke to the wackiest comic duo, Luke and Wyatt (hosts of Camp Orange), who are gonna be hosting the event on the day.

KZ: Who's your favourite Nickelodeon character and why?
W: My favourite Nickelodeon character is Squidward, because he's great on the clarinet, and such a people person!
KZ: If you could live in any Nickelodeon world, which one would it be and why?
W: Hands down, the world of Avatar the Last Airbender! I really want to see a Sky Bison!
KZ: What's the most fun thing about hosting shows like Camp Orange together?
W: Luke and I get to muck around on water slides, on bikes and play in the slime - basically behave like kids!
KZ: What's the most embarrassing thing that's ever happened to you guys performing together?
W: Once we were doing a gig and Luke tripped on a banana skin, then my pants tore a big hole in them and we both wet ourselves. It was pretty embarrassing!
KZ: What's the coolest way to spend Australia day this summer?
L: In the freezer section of your local shopping centre! Hop amongst the peas and frozen chips, and be a cool dude with us! After that, head down to Hyde Park where Nick is taking over with heaps of fun games, live performances and activities, it's going to be tops!
KZ: What kind of surprises can people expect in store for the Australia Day Summer Playground in Hyde Park?
L: It's going to be awesome! Nick is completely taking over Hyde Park this Australia Day. There's going to be stacks of things to do, I'm most excited about the Super Nick Zone where you can dress up as a super-hero and get a photo of yourself flying!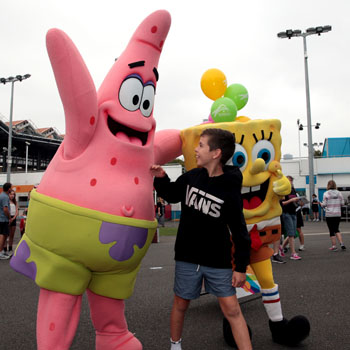 WHEN: Australia Day, January 26, 2015
WHERE: Hyde Park (North end), Elizabeth St Sydney NSW 2000
TIME: 9am to 5pm