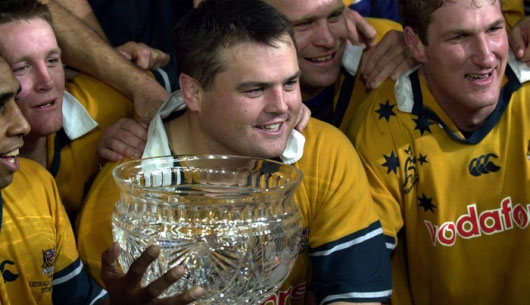 The Wallabies hold the Tom Richards Cup after winning against the Lions in their last clash in 2001!
NAME: Thomas Richards
NICKNAME: Tom, Rusty
SPORT: Rugby Union
BORN: 29 April 1882 in Northern NSW
Fast facts:
Tom started playing rugby when he was a kid, after a NSW Rugby Team visited his home town.
Tom played for the awesome Wallabies! He's also played for the British Lions and a South African team.
On tour with the Wallabies in 1908, he scored the first try against Wales. After that, he helped the Wallabies win gold at the 1908 Summer London Olympics!
Tom was the only player to ever play for both Australia and Britain.
He has a trophy named after him – the Tom Richards Trophy. Whenever Australia and the British Lions play each other, the winner gets the trophy!

England won the Tom Richards Trophy in 2013!