Hey K-Zoners! Happy Friday!
I've played a lot of backyard cricket in my life, mainly coz my big bro is a really good bowler and he used to practice on me. This meant that if I didn't want to get hit with a cricket ball, or give him 100 wickets, I had to acquire some serious batting skillz!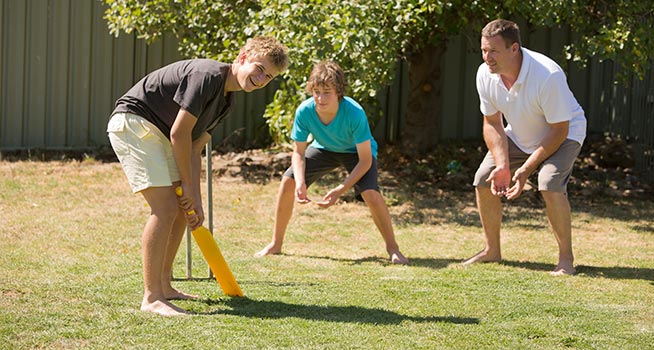 This hot weather we're having at the moment is reminding me of all those fun times and how cool backyard cricket is. Do you guys play? If you do, you'll know these things to be true…
Anything can be used for stumps – a garbage bin, a tree, a plastic chair…


The devastation when you bowl your brother or sister out on the first ball they face, but they're not actually out coz of the no golden duck rule.


Being punished for being an incred batsman, e.g. you're out when the ball goes on the roof, in your neighbour's pool or gets stuck in a tree.


A broom or a giant stick is a handy tool for getting the ball out of a tree. Throwing a shoe at it will only end in disaster.


You talk about your match for days after and can't wait to get out in the backyard again after school or on the weekend.
I want to hear your backyard sport stories! I'll also be talking to a super famous Australian cricketer soon. I can't say who just yet, but let me know if you have any questions for him and I'll ask 'em!
Have THE BEST weekend :)
Lou