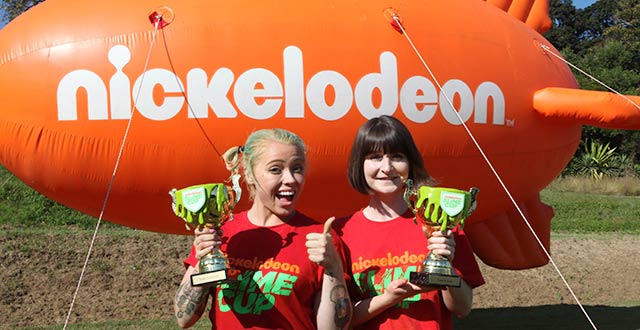 Nickelodeon searched all over Australia and New Zealand to find teams of awesome kids to compete in the craziest, slimiest challenges of all in SLIME CUP!
Episodes of SLIME CUP air every Friday from 5:30pm, so you better keep your eyeballs peeled to watch all 16 teams of BFFs compete for the chance to win! The victorious duo will have the honour of being the Guardians of Slime at SLIMEFEST 2016, just one of the coolest prizes ever!
To make it to the end of SLIME CUP, the competitors will need speed, smarts and stomachs of steel – easy, right? Well, I headed over to the filming of SLIME CUP to take a peek behind the scenes. The best part? I got to represent Team K-Zone and race through the Stage One obstacle course. Major dream come true! Check out the video below!
First was trial by wire! If I hit a single wire, I would set off a colour bomb – it was basically like trying to get through a laser grid in a spy movie, but with more exploding colour powder.
Then, I had to climb over the logs through the pool of slime, all while being sprayed with a super strong slime hose. After the logs, it was up the really slippery nose run to the top of slide, where I had to dig a booger out of the giant nose!
I grabbed a booger, and waited for my teammate Jess to run the course so we could high-five our boogers together at the top of the slide. Once that was done, we ran back to the start to pull the slime crank and stop the clock.
By the end, we were covered in slime and colour bomb powder, and totally freezing. It was awesome!
Want more slime in your life? Tune in to SLIME CUP, Fridays at 5:30pm on Nickelodeon!