The first ever Nickelodeon Kids' Choice Sports Awards aired on Monday, November 20 at 5:30pm! Nickelodeon announced the winners, but I won't be spoiling the results because if you missed the show, you can watch it for free on the Nick Play app right now. Just make sure you check it's okay before downloading the app!
I was also lucky enough to go to a slime-filled celebration at Nickelodeon HQ and catch up with a few of the totally talented nominees – I made sure to ask all the hard questions and get all the deets, so you know more about the sports stars you can vote for.
Australian Ninja Warrior star, Jack Wilson, was nominated in the Sickest Moves category, and also co-hosted the show!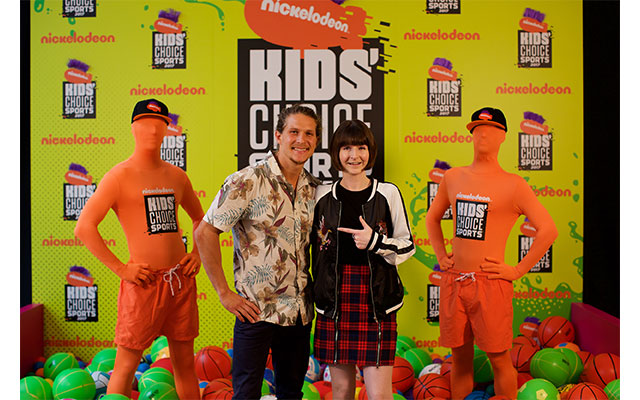 Here I am hanging out in a ball pit with Jack Wilson!
​
Fast Facts
Name: Jack Wilson
Nickname: Jank, Janky, Willo
Amazing Achievements: Australian Ninja Warrior
​KZ: Hi Jack! How many times a week do you train?
J: At least two hours a day, whether it's pushups or pull ups, and I always run every day, about half an hour of running or walking, then strength training as well. I'll run outside, get out in nature and enjoy what this universe has to offer, so I love running on the beach as well. I love running over 10km but I usually run 5-10km.
KZ: The best part of being a Ninja Warrior is…​
J: I was the very first Australian to complete the heats, first person up the wall to hit the buzzer, and a lot of people watched it. I really made my mark for my outfit, and I went on with a strong message and inspired a lot of people, kids, teenagers and adults. I got so much love and support from all ages, not just for the physical side but also for who I am and the message I was trying to send. That was important to me. The Ninja Warrior helped me go out, be myself and speak out.
KZ: Any advice for K-Zoners who want to share an important message but don't know where to start?​
J: Speak to someone, whatever ideas you have. Communicating is so important, so speak up. If you have good ideas, tell people! You never know where that idea can lead. I started with a vision, I thought it was impossible but I'm living it now.
Check out the first ever Nickelodeon Kids' Choice Sports Awards on the Nick Play app right now – make sure you check with your parents before downloading the app!