Hey K-Zoners! Let me ask you an important question – what could possibly be more awesome than sport? Well, the first ever Nickelodeon Kids' Choice Sports Awards, of course!
​Nickelodeon have announced superstar nominees for this epic award show, including Tim Cahill, Ellyse Perry, Jamie-Lee Price, Daniel Ricciardo, Charlotte Caslick, Jack Wilson, Caroline Buchanan and many more. Voting is open now at nick.com.au/kcs, and the power is in your hands. You can also enter the draw to win the ultimate Nickelodeon sports swag pack!
I was lucky enough to go to a slime-filled celebration at Nickelodeon HQ and catch up with a few of the totally talented nominees – I made sure to ask all the hard questions and get all the deets, so you know more about the sports stars you can vote for.
The first person I'll tell you about is the totally awesome Jamie-Lee Price, who is nominated in the Next Big Thing category!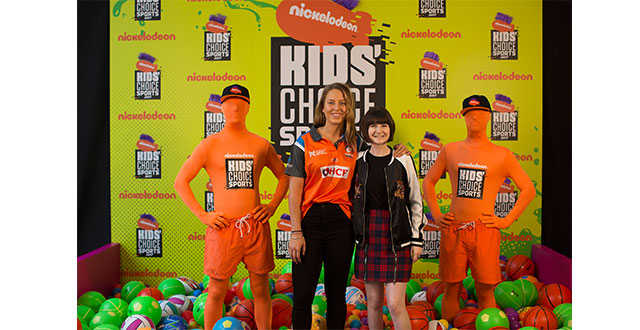 Here I am hanging out in a ball pit with Jamie-Lee Price!
​
Fast Facts
Name: Jamie-Lee Price
Team: Giants
Position: Wing Defence and Centre
Goal Assists: 17
Centre Pass Receives: 44
Deflections: 36
Intercepts: 18
Loves: The beach, spending time with family and having fun!
​
A: Hey Jamie-Lee! What has been the craziest moment of your netball career so far?
J: This year I made the Under 21 Australian team, and we went to Botswana for the World Cup. We played in Africa, which was cool. I got Most Valuable Player, which was also very exciting; I'd never gotten that before. I stayed for an extra four days and went to Zimbabwe. We went walking with the lions, and saw giraffes, rhinos and hippos. Everything you see in The Lion King, we saw it!
A: Do you have any traditions before a game?
J: I always wear the same pair of socks! They change every year but I'll wear those socks for every game. That's weekly though, so I do wash them!
A: You must spend so much time around other people being part of a team! Does anyone ever pull any pranks?
J: One time, in one team, one of the girls hid in the hotel rooms while wearing a Spider-Man mask, and she put a camera in the room. When someone else would walk in, she jumped out and screamed and scared them. We got it all on camera.
A: So cool! You're obviously awesome at netball – what other sports do you think are helpful for being better in netball?
J: In a way, I think AFL is quite similar in a lot of ways to netball, and when I was younger I played OzTag in summer to keep me fit, and it's a good base for netball.
A: Any tips for K-Zoners who want to be a pro player?
J: Believe in yourself! Talent can only get you so far but hard work can get you further, so the more hard work you put in and the more belief you have, you can get anywhere.
Want to vote for Jamie-Lee in the Nickelodeon Kids' Choice Sports Awards? Head to nick.com.au/kcs! Voting closes at midnight on Sunday, November 12!
​​
Stay tuned for more info about other Nickelodeon Kids' Choice Sports Awards nominees!