We caught up with the world's greatest secret agent, Danger Mouse, while he was took a quick break from protecting the universe and mind-blowing missions!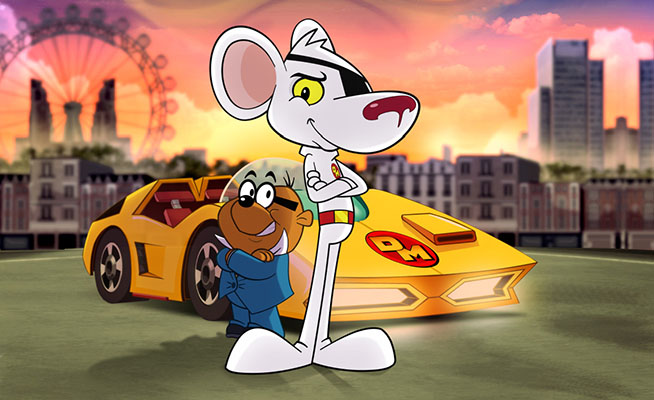 KZ: Hey Danger Mouse! Thanks for saving the world so many times! What has been the scariest experience so far while being a Danger Agent?
DM: Some say scary, I say exciting… Actually, Penfold says scary, I say exciting, but saving the world is all in a day's work. When Penfold and I took on the World Wide Spider who threatened to eat the world, it was suggested I was scared of spiders which is totally preposterous… There aren't any here, are there?

KZ: That sounds pretty terrifying! How is Penfold? Have you had to save him from any trouble lately?
DM: Penfold is absolutely on top form. He was only saying the other day how much he was enjoying our new adventures, especially taking on the evil Count Duckula. I think that's what he was saying. I couldn't quite hear him as he was running away in the opposite direction screaming.

KZ: How do you usually go about saving the day?
DM: Well, after Colonel K has briefed us, we sit down as a highly trained team and discuss the facts at hand. Then I usually ignore all of that, jump in the Danger Car and do it in the most dangerous way possible as we go along.

KZ: When was the last time you faced Baron Silas Greenback and his henchmen?
DM: I saw him down the supermarket last week. He was in the 10 items or less queue with 12 items – THE FIEND!

KZ: You have a pretty crazy collection of gadgets! What's your absolute fave?
DM: So many to choose from! My personal favourite is the ejector seat in the Mark 4. A few teething troubles as it tends to eject the car rather than the seat, but we're working on it.

KZ: Are you the new James Bond?
DM: I heard James Bond actually wanted to be me, but that's totally understandable. When I saw him at the secret agent's monthly barbecue, I could see he was very envious of the Danger Car – and why wouldn't he be!

Catch epic episodes of Danger Mouse weekdays at 4:45pm on ABC3!