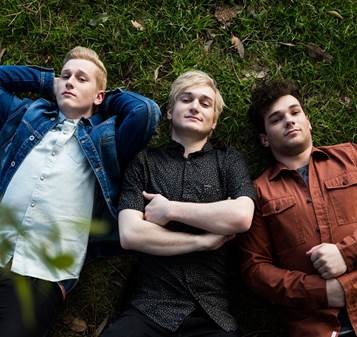 Brothers 3
is a country pop band of three brothers from Mudgee, New South Wales. They even came third on
X Factor
in 2014! We hung out with band member Mak, who told us all about how to
level up
as a musician!
KZ: Hey Mak! We have to ask… Why country music?
M: We used to play music as a family – we used to sit around and jam on the farm! Having three acoustic guitars pushed us towards country music. At the moment we're playing country pop, but that's why we first started with that kind of genre.

KZ: How did you learn to write your own songs? Any tips for writing one?
M: I don't know how we learnt, we just started writing. We try and write from the heart, and it just kind of happened!

KZ: Tell us about your bros!
M: Tayzin's the crazy one – he's always doing something weird or we don't know where he is! Shardyn is the one who tries to tell jokes but all of them are failures! And I'd be the bossy one!

KZ: Do you ever get nervous on stage?
M: The most nervous I've ever been was for X Factor – there are people sitting in front of you just to judge you! Whereas normally everyone's on your side.

KZ: Best way to deal with nerves?
M: I drink a lot of water. I don't deal with them, I just turn them into excitement.

KZ: How do you make your shows exciting?
M: We have a lot of fun on stage – if we're having fun, everyone else has fun.

KZ: Do you ever prank your brothers? Give us some examples so K-Zoners can level up their pranking game!
M: All the time! I feel like pranks for us are jump scares – we'll wait for one of the other brothers to come past and just jump and scream at them! Their reactions are priceless.
Brothers 3's new album Brothers Never Part is out now!